Sewage Backup Cleanup Coastal Counties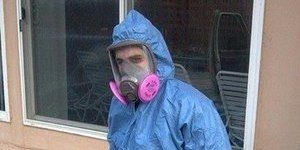 911 Restoration of Galveston provides quality and immediate services including sewage backup cleanup, to the home and business owners of their local community. Answering each call with a sense of urgency and compassion is not uncommon for Chris Grimet and his team, who are available 24/7/365.
Chris says "providing peace of mind and reassurance that there will be a positive outcome is our first priority." Disasters in your home can vary but all need to be cared for immediately and by an expert, especially sewage backup and cleanup".
For these reasons, the cleanup and sanitation team is available to assist you by providing peace of mind and:
Offering you same day service
Arriving within 45 minutes of your call
Ensuring fast cleanup to avoid a bigger repair bill
As leaders with 35 years of experience in the restoration industry, our team of experts knows how to effectively eliminate bad odors and mold spores by coating the affected areas, removing the waste, and coating the affected area again, treating it with antibacterial sprays.
The sewage backup team takes all measures to ensure your home is clean and healthy again. If you are in need of a reliable sewage backup team, our Galveston crew of 911 Restoration Galveston area available. Call (281) 819-5119.
Being Prepared and Reacting to Sewage Backup Fast
Encountering your basement with a sewage backup situation can cause distress and confusion. You don't need to worry, when our project managers can answer any concern you have and help you find solutions.
When you care about something you work hard to make sure nothing can tarnish or damage it. As a home or business owner, being prepared in key in preventing disaster restoration repairs. Checking to make sure your home does not have an old or aging sewage line is one way to avoid a huge sewage backup and clean repair bill.
In addition to maintaining piping knowing where the water-shut off valve is important too.  Knowing where it is located is vital because it can be hidden in an area not easily visible, hiding under a cap. In smaller homes it may be found in the basement or if your home is a bigger size, it can be located in the garage.
During a sewage backup disaster, finding the utility panel without searching for it will reduce a lot of your distress. Once you get to the utility panel, safely locate the water valve and shut it off.
Cutting the water quickly is vital to preventing further sewage backup, By cutting it off quickly you are equalizing the water pressure and reducing excess flow into the affected area.
Call for Sewage Backup Cleanup as Soon as Possible
Do not prolong calling the sewage backup and cleanup team Galveston. In some cases, home and business owners have left the water and sewage without properly removing it and it become black and contaminated. When that happens and you are faced with a category 3 you need the assistance of a professional.
Instead of cutting corners or waiting call us at 911 Restoration of Coastal Counties. Our crew works to strategize a at 911 plan that is a combination of skill and cutting-edge technology.
You will return to a home that was better than before. That is our fresh start guarantee. Call the sewage backup Galveston team here at 911 Restoration Galveston. Our fresh start attitude guarantees a safe and comfortable home, better than its original condition.
Call the sewage backup Charlotte team here at 911 Restoration Galveston at (281) 819-5119.
Serving the communities of Alvin, Angleton, Brazoria, Clute, Freeport, Fresno, League city and surrounding areas.