About 911 Restoration of Coastal Counties
911 Restoration of Coastal Counties is owned and operated by a team of highly qualified local specialists.  Our team works with a sense of efficiency, integrity and reliability. The Fresh Start Attitude is something we encourage to all of our customers. We want to let you know that behind every and any water damage disaster, there is a Fresh Start waiting for you.
We always put our customers first; having to experience the trauma that comes with property disaster first hand, our team works hard to provide peace of mind and long-term repairs solutions to every home and business owner that calls 911 Restoration of Coastal Counties.
At the sign of trouble, forget your troubles and call (281) 819-5119. Our team of 24/7/365 specialists will schedule an IICRC certified tech to arrive to the site of the disaster within 45 minutes or less and offer a free visual water damage inspection.
Water Disaster Prevention Tips From the Pros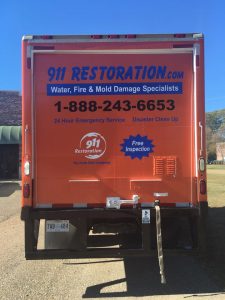 Our water damage and restoration team works on a variety of water damage situations, which is why you can rely on 911 Restoration of Coastal Counties to help you in your disaster restoration needs.
Using advanced technology and equipment to detect and remove water, moisture and determine any signs of fungal growth. We do not hesitate to go into crawlspaces and attics if needed.
Although weather conditions are out of human control, there are other elements within our control that can prevent water damage, repair bills and headaches.
Always turn off water supply if leaving for vacation
Trim trees around your property so dead branches won't fall on your roof in a storm or heavy rain
Putting splash pans under your skin and/or washer to catch leaks and prevent a bigger water damage
Install a downspout extension to prevent leaks, shifts or cracks in walls
When it comes to quality restoration services, 911 Restoration of Coastal Counties will restore your home making it healthy, safe and comfortable for your family. By the time we are ready to present you your fresh start, the house will be better than it was the day you moved in.
Call us 24/7 for expert help and fast relief from water, mold, fire, and water damage. Our professional water damage and mold remediation team at 911 Restoration will turn your negative situation into a positive.
In the Best Hands with 911 Restoration
Once the source of the mold or water damage has been determined, we offer to handle your claim insurance for you. Having been in the restoration industry for over four decades we know all the right questions to ask in order obtain the maximum coverage from your homeowner's policy.
You can rest assured your home will be in good hands with our water damage restoration specialists. As licensed, insured, and bonded specialists we arrive readily equipped and ready to face any disaster.
The water damage and mold remediation team at 911 Restoration of Coastal Counties are the right choice for your flood cleanup, mold removal, or fire damage restoration job.