Disaster Restoration Coastal Counties
When a disaster strikes, home and business owners know they can rely on 911 Restoration of Coastal Counties to arrive and face any disaster and remediate any issue.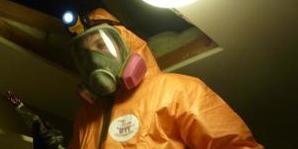 Where there is water damage, there is potential future mold, sewage and possibly fire and smoke incidents waiting to happen. At the site of a disaster, call our disaster restoration Galveston professionals!
You can rest assured that our 35 years of experience will get the job done right quickly, safely and within 45 minutes of your call
A disaster is unpredictable and most of the time, unavoidable. Our disaster restoration Galveston team is available 24/7/365 to address your concerns and schedule an IICRC certified technician to arrive to the site of the disaster within 45 minutes of your call.
You don't need to stress that you have to wait for help. Our license, bonded and insured crew arrives, fully equipped and prepared to conduct repairs. We use advanced disaster restoration technology and cutting-edge cleanup machinery to implement the restoration process right away.
Despite the site, location or area of the disaster, you can have peace of mind knowing that you have the disaster restoration Galveston crew on your side. So don't hesitate and speak to our representative today by calling us today!
Quality Disaster Restoration Repairs
As trusted leaders in the industry, we are dedicated and focused on providing customers with the best disaster restoration process.  We are best recognized for our fast response time to minimize damage and costs, while using the latest and highest quality disaster cleanup technology and equipment.
Along with providing top-notch repairs, we handle your insurance submission claim and communicate each step of the way providing you with updates and repair timelines.
We work with most insurance companies and alongside the adjuster for finding the underlying cause, proving it to be insurance-related.  We know the right questions to ask to obtain to most coverage for your disaster restoration repairs.
Water is a major source of many disaster scenarios, particularly in small and confined areas and space. When you call 911 Restoration of Coastal Counties, our water damage expertise may come into play to efficiently remove any excess or lingering water from your home, preventing future structural damage.
If you are a home or business owner seeking a reliable and caring company to provide you with a free visual inspection, call our local representatives to schedule a technician today.
Disaster Restoration Specialists You Can Always Rely On
When you work with the disaster restoration Galveston team we turn disasters into forgotten memories and provide you and your family with a Fresh Start.
As a disaster restoration service that truly cares about the safety and well being of their customer's homes and businesses, we don't just leave after the disaster has been repaired. We provide tips and advice on preventing future water damage and simple maintained checks to keep your home in good, long lasting condition.
Call the disaster restoration Galveston team with 911 Restoration of Coastal Counties team to restore your home better than its original condition.
Serving the communities of Alvin, Angleton, Brazoria, Clute, Freeport, Fresno, League city and surrounding areas.